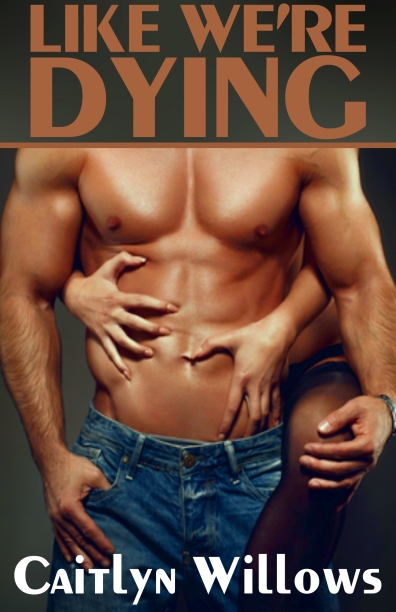 LIKE WE'RE DYING
by Caitlyn Willows
Contemporary - Erotic Romance
September 2015
Amber Quill www.amberquill.com
ISBN 978-1-41994-342-3
Hot, hungry and horny, Jim's looking for a night of scorching no-name sex. Desperate to feel alive, Julia's on the prowl for a hot, hard body before the Marine Corps sends her back to war. Who knew a one-night stand could be more than either of them ever hoped for? Or that they'd have such little time to enjoy it? Sometimes a person has to take a chance. Do something a little crazy. Live like they're dying.
To read an excerpt of this book, click here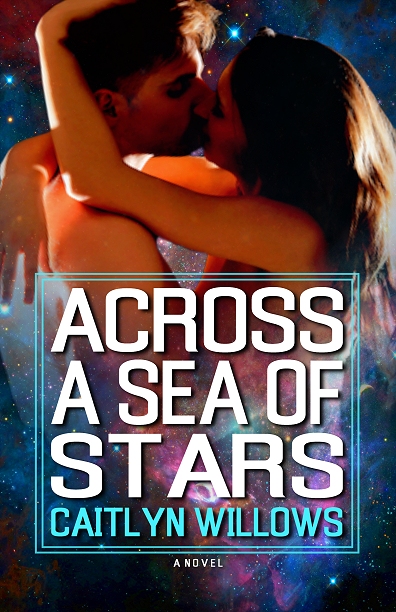 ACROSS A SEA OF STARS
by Caitlyn Willows
Erotic Romance - Novel - Sci-Fi/Fantasy Romance
June 2015
Cover Art by Trace Edward Zaber
Amber Quill www.amberquill.com
ISBN: 978-1-68175-036-1
A night of debauchery has made Kes realize how much he's wasted his life. Fate delivers him a chance to turn things around. All he has to do is retrieve a stolen Planet Skipper and deliver the culprits responsible for its theft. Once the task is accomplished, his entry into the Interplantary Commission is guaranteed. But the Universe has another plan—Anne Sherwood.
Anne has always believed that everything happens for a reason. She prides herself on being open-minded. A world of possibility and wonder lay open to those who were willing to accept. But even she has her doubts when she learns the hot-as-heck man she's spent the night with reveals he's from another planet.
Through Kes, Anne discovers a power of her own she'd never imagined—the ability to control energy. It's a power that's growing by the minute. A power that could get out of control if she allowed it to do so. Now someone from Kes's past is aware of it, too. And he wants it for himself.
To read an excerpt of this book, click here.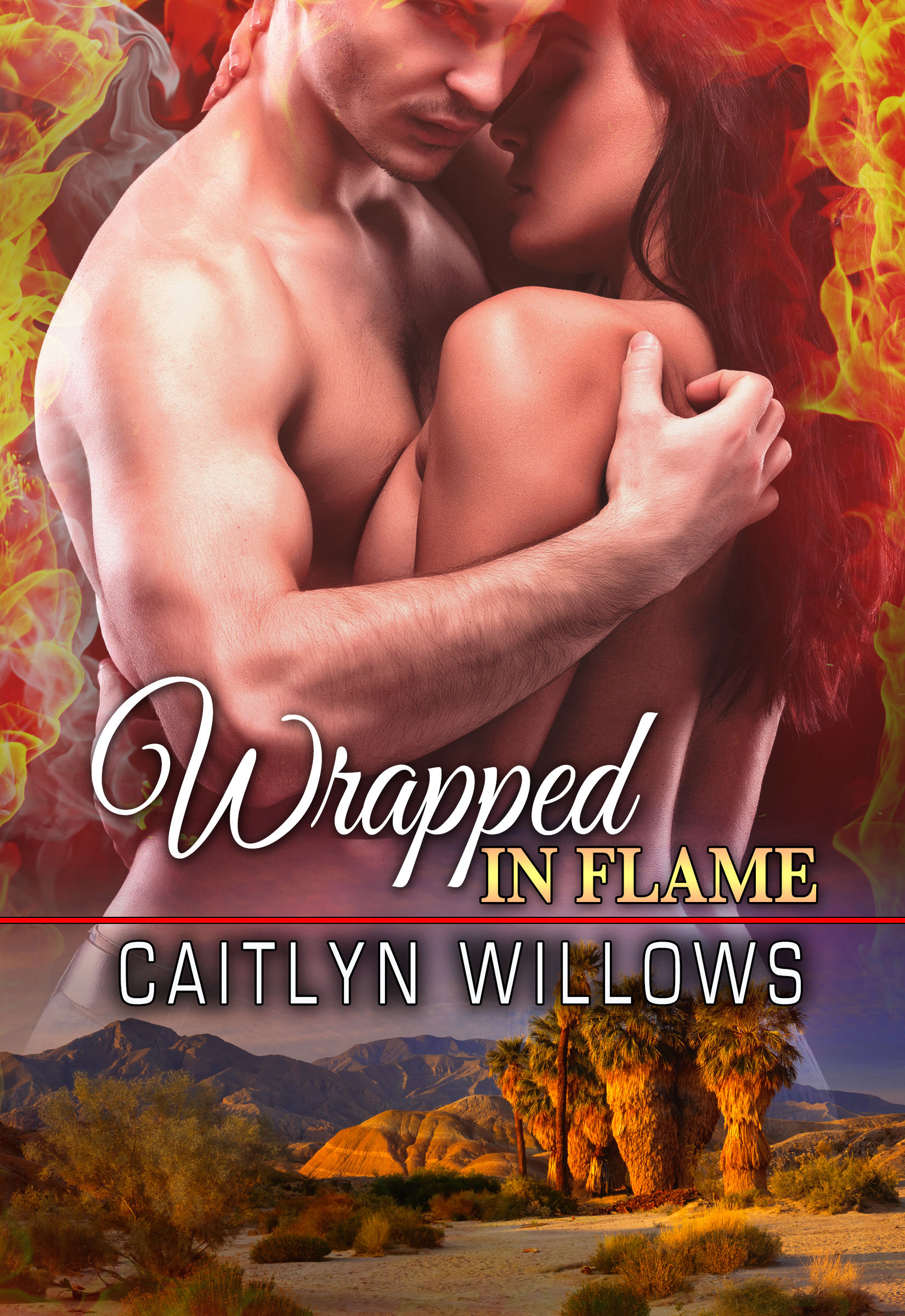 WRAPPED IN FLAME
by Caitlyn Willows
Contemporary - Erotic Suspense Romance
April 2015
Cover Artist - Scott Carpenter
Loose Id www.loose-id.com
ISBN 978-1-62300-872-7
Shed of the biggest mistake of her life, Erica is looking forward to starting over. Who better to help her explore her options than the man who's been front and center in her fantasies. Mike thought hell was wanting Erica and knowing she belonged to another man. That hell was knowing the other man was a worthless son of a bitch who didn't deserve her. Now she's all his and he's not wasting a single second. Nothing like being suspected of her ex's death to destroy unfettered bliss.
Mike would to anything to keep her safe, to have her in his life now that she's free, even if that means letting go when he wants to hang on tight. Erica's determined to stop the monster preying on others. Giving over control isn't so easy when you know doing so could very well cost the woman you love her life.
To read an excerpt of this book, click here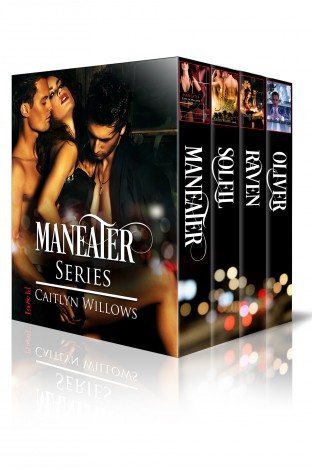 MANEATER, SOLEIL, RAVEN, OLIVER
by Caitlyn Willows
Contemporary Erotic Romance - Menage - BDSM
Boxed Set of the Maneater Series - Limited Time
Loose Id www.loose-id.com
ISBN 978-1-62300-875-8
Three Dommes and the Dom who trained them. The entire Maneater Series is now available in one boxed set for a limited time.
Check out the excerpt page for more information, click here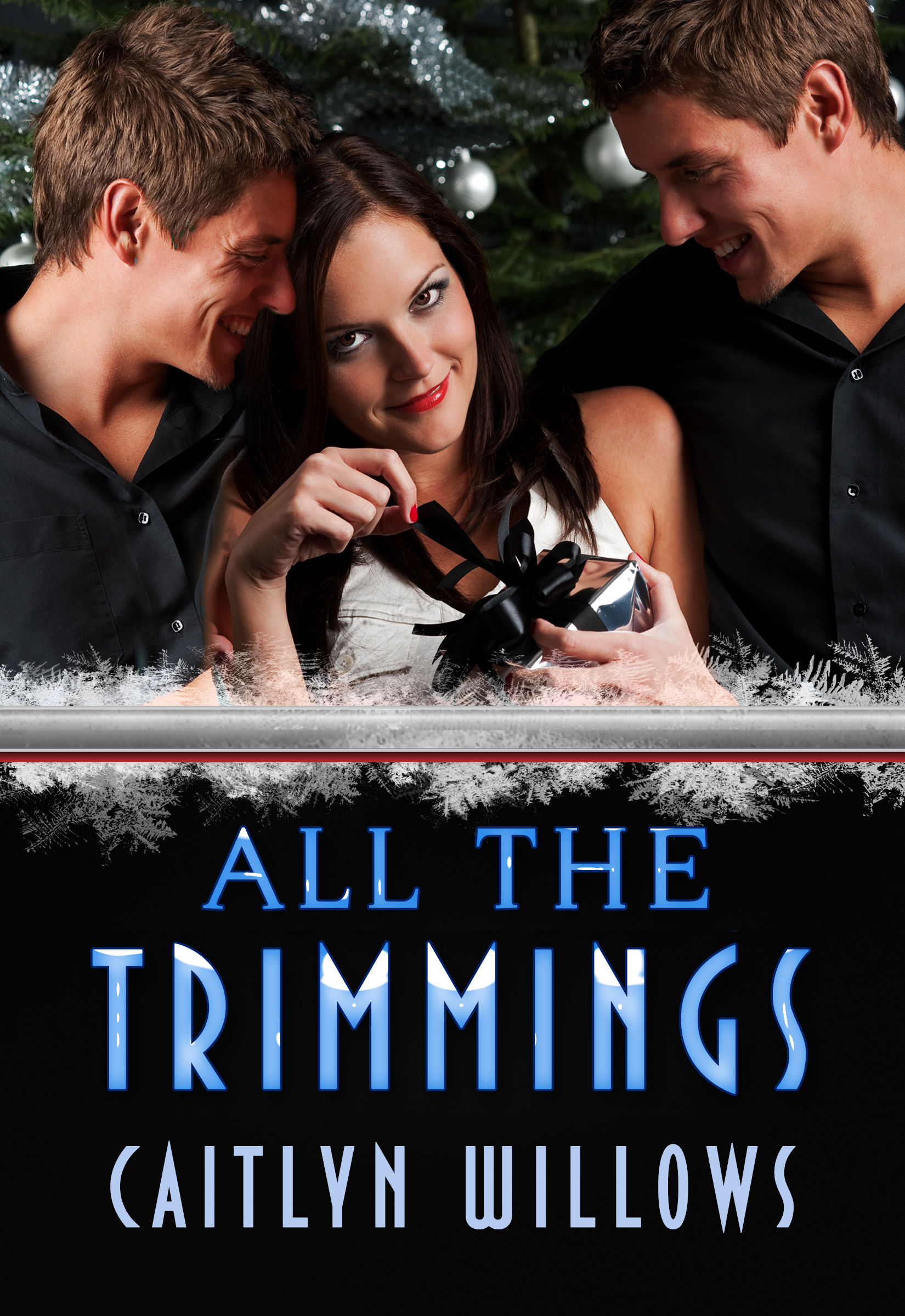 ALL THE TRIMMINGS
by Caitlyn Willows
Part of the Nicely Naughty Volume 2 Anthology
Contemporary - Erotic Romance - Menage (M/F/M)
Releases 16 December 2014
Cover Artist - Ginny Glass
Loose Id www.loose-id.com
ISBN 978-1-62300-823-9
When Chrissy agreed to housesit for her grandparents and prep the place for Christmas, she never imagined the icing on her cookies would be the twins next door. But they were hard-loving men who didn't play for keeps, and she never played at all…until now.
Joe and Jess crave their neighbors' cute granddaughter more than they can stand. She's definitely a game changer they never imagined, blowing into their lives like the approaching winter storm, stirring up their wildest fantasies and making them want with an intensity hot enough to melt the fake icicles draped around her Grandma's house.
Christmas with all the trimmings. Those were Grandma's instructions. And while Chrissy knows she wasn't referring to Chrissy laid out for Joe and Jess's pleasure­or they hers—Grandma's got some explaining of her own to do. Like how she knew about those dimples on the twin's perfect backsides.
To read an excerpt of All The Trimmings, click here